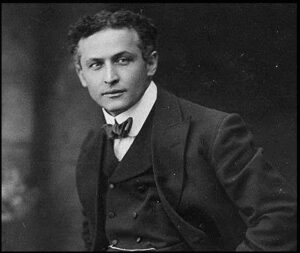 Here is a great anecdote, written by one of JB Rhine's great-grandchildren, Megan Trevarthan about her meeting with Harry Houdini.
"My great grandfather's name is J.B. Rhine, a founding father of parapsychology. He coined the term "extrasensory perception" or ESP as a "sixth sense". But he's also known for debunking mediumship (communicating with spirits), which brings me to some family, toe-pinching lore.
For a little background, both J.B. and renowned escape artist Harry Houdini separately exposed the fraudulence of the infamous medium Mina "Margery" Crandon in the '20s. Houdini had discredited her practices two years earlier, but J.B. still had a scientific interest in mediums and hoped to see "true psychic productions". However, after sitting in her séance, he realized she was a big ol' fake and authored a public, and damning, exposé about her scam.
Houdini devoted his life to exposing fraudulent Spiritualists after realizing they were a crock and he'd be unable to speak with his beloved late mother. He'd hilariously attend séances wearing a false beard and mustache (I like to picture him wearing those classic Groucho glasses!) and after he gathered enough evidence, he'd dramatically tear off his disguise, stand-up, and declare: "I am Houdini! And you are a fraud!"
So, here's the story: Houdini was in Boston demonstrating the "tricks" phony mediums used to a live audience. After the show, a mutual friend brought J.B. backstage to introduce him to Houdini. While J.B. listened to Houdini speak about his experience with mediumship, Houdini surreptitiously slipped a foot out of his shoe (he never wore socks!) and, using his toes, pinched J.B. in the leg.
J.B. was confused and not sure what happened, but Houdini shared that mediums often use their toe dexterity to manipulate "miracles", claiming these mysterious pinches in the dark came from The Beyond. His toe flexibility also helped Houdini be such a great escape artist! When J.B. went home, he noticed his leg had a huge bruise.
Aside from these toe-rrific antics, the pair made pretty famous enemies through their spiritual debunkery. Notably, Sir Arthur Conan Doyle of Sherlock Holmes fame, one of the world's most ardent proponents of spiritualism at the time. Conan Doyle was so furious about J.B.'s exposé that he paid for an ad in a Boston newspaper that proclaimed "J.B. RHINE IS A MONUMENTAL ASS!" He even publicly implied that Houdini's exposure of Margery and other mediums led to Houdini's untimely death."