2022 PA Book Award Winner: "J.B. Rhine: Letters 1923-1939: ESP and the Foundations of Parapsychology"
Published by Parapsychological Association on Monday, December 26, 2022
Last Updated: Tuesday, December 27, 2022


J.B. Rhine: Letters 1923-1939: ESP and the Foundations of Parapsychology, edited by Sally Rhine Feather and Barbara Ensrud, is a collection of over 1500 letters from Rhine, documenting his efforts to find reliable evidence of psychic ability during the 1930s at Duke University.
One of the most fascinating aspects of the book is the personal and intimate nature of the letters, which provide a unique glimpse into the thoughts and motivations of Rhine as he pursued his research. Through his correspondence with colleagues, subjects, critics, and supporters, we see a man who is deeply passionate about his work and dedicated to finding the truth about psychic phenomena. The letters also reveal a sense of humor and modesty, making them an enjoyable and engaging read. And despite the controversy and skepticism surrounding his findings, he remained committed to using scientific methods to explore the mysteries of the human mind.
Overall, this book is a must-read for anyone interested in the history of parapsychology and the groundbreaking work of J.B. Rhine, and highly recommended for scientists, historians, and the general public alike.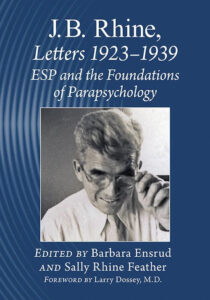 During the 1930s a new approach to exploring human consciousness began at Duke University with Professor J. B. Rhine's experimental research on extra-sensory perception, or ESP. His findings on telepathy, clairvoyance, precognition and psychokinesis challenged conventional disbelief. Rhine's findings and his first popular book, New Frontiers of the Mind, ignited excitement and controversy—among not only scientists but the public at large. Rhine's letters chronicle his efforts to find reliable evidence of psychic ability, from the séance room to psychic animals and finally to a university research laboratory. Covering the years 1923–1939, they reveal a gripping story of groundbreaking research, told in the words of the main player as he worked with his team, subjects, critics and supporters alike.
The Rhine exhibit at Duke's Rubenstein Library: ESP at Duke
https://library.duke.edu/exhibits/2020/parapsychology
Comments
A Story in Letters
I spent some time researching the Parapsychology Laboratory of Duke University and my favorite part was reading the letters of J. B. Rhine. What emerges in the letters is the story of the early days of research into parapsychology in a university setting, which wasn't just a fascinating story, it was dramatic. I was riveted by the reaction from the scientific community and the always incredibly restrained and patient response from Rhine. They were developing and refining experiments and getting results, and Rhine would answer rude letters from people like B. F. Skinner, or letters from the genuinely curious, like Alfred P. Sloane or Aldous Huxley. These were exciting times and you can feel it in the letters. – Stacy Horn, author of
Unbelievable: Investigations into Ghosts, Poltergeists, Telepathy, and Other Unseen Phenomena, from the Duke Parapsychology Laboratory
________________________
From the Journal of Parapsychology, Spring 2022
James Carpenter on J.B. Rhine Letters, 1923-1939:
"Sally Feather, the daughter of J. B. Rhine, and Barbara Ensrud have transcribed over 1500 letters from the little mountain of correspondence that Rhine carried out in the seminal years of the 1920's and '30's, and carefully distilled that down to the representative set presented in this volume. They can be read as scientific history, and in that aspect they are fascinating; but they can also be read like a novel, a story that races along, with many fascinating characters, triumphs, failures, intrigue, honor and dishonor, close calls, blunders and victories. Read more… 
________________________
"J.B. Rhine, Letters 1923-1939 is an enthrallingly readable resource that casts a rare light on the decision-making and challenges, sometimes personal, faced by Rhine and his collaborators in cementing the status of parapsychology as an academic discipline. The introductory materials by the book's editors are also a helpful and sprightly resource. In a current era dominated by cynicism and reactivity, this book reminds us of the courage, civility, and unwavering ethics that JB Rhine brought to his work. Even those without direct interest in psychical research will find in this book a characterological study from which all students, intellectuals, teachers, and scientists can learn."—Mitch Horowitz, PEN Award-winning author of Occult America and Uncertain Places
________________________
"This remarkable collection of J. B. Rhine's letters provides a panorama of his early interest in psychic phenomena and its evolution over three decades.  The letters often refer to Rhine's wife, Louisa, who was his co-worker from the beginning. There are letters to Gardner Murphy, C.G. Jung, Eileen Garrett, B. F. Skinner, J. M. Cattell, Joseph Jastrow, Charlie Chaplin, Clifton Fadiman, Hamlin Garland, E. G. Boring, Walter Franklin Price, H.L. Mencken, Upton Sinclair, Vladimir Bekhterev, and William McDougall who hired him to teach at Duke University and with whom he founded the Parapsychology Laboratory and the Journal of Parapsychology. It was at Duke that Rhine started to use the term "extra-sensory perception" and developed a card-guessing paradigm to measure it.

The collection ends in 1939, a year marked by the famed American Psychological Association debate, the preparation of the seminal volume Extrasensory Perception After Sixty Years and following the death of his mentor William McDougall. This opus is of inestimable value as it details the scientific and intellectual progress made by, arguably, one of the 20th century's most important pioneers of science." 
~Stanley Krippner, Ph.D., American Psychologist
________________________
"I think you'll be surprised at how many will respond to this book, because it isn't 'just a dry book of letters' but tells a real and very interesting story as well – and your website explains that." ~Rosie Rhine, daughter of J. B. Rhine

________________________
"The important take-away of J. B's correspondence is that I learned about J. B.—the man. This is usually missing from academic writing. What impressed me the most about J. B.—the man, was his gentle approach to the topic of psi while talking to notables (proponents, participants, and skeptics) of the day such as Eileen Garrett, William McDougall, B.F. Skinner, Aldous Huxley, Upton Sinclair, Helen Keller and Charlie Chaplin to name but a few. As I browsed through the collection, I realized it could be considered as an "instruction manual" for today's researchers who appear to be consumed with convincing the skeptics of our day. J. B. was able to accomplish this feat without compromising his research academic rigor." ~Edwin C. May, co-editor of The Star Gate Archives, an account of the US Government's psi program called Star Gate.
________________________