Rubenstein Library, J.B. Rhine: ESP at Duke.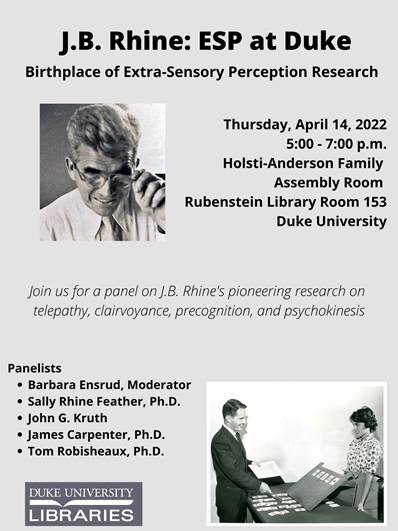 Please join us on Thursday, April 14, in the Rubenstein Library for an event on J.B. Rhine: ESP at Duke.
4-5 p.m. : Self-guided tour of "Early Studies in Parapsychology at Duke," on display in the Josiah Charles Trent History of Medicine Room, Rubenstein Library
5-7 p.m. : Panel discussion "J. B. Rhine: ESP at Duke/ Birthplace of Extra-Sensory Perception Research," Holsti-Anderson Family Assembly Room, Rubenstein Library Room 153
Panelists include:
– Barbara Ensrud, Moderator
– Sally Rhine Feather, Ph.D., Clinical Psychologist, co-editor of J.B. Rhine : Letters, 1923-1939 : ESP and the Foundations of Parapsychology
– John G. Kruth, Executive Director of the Rhine Research Center
– James Carpenter, Ph.D., Psychotherapist
– Tom Robisheaux, Ph.D., Professor of History, Duke University
This event is in-person only. All are welcome to attend.